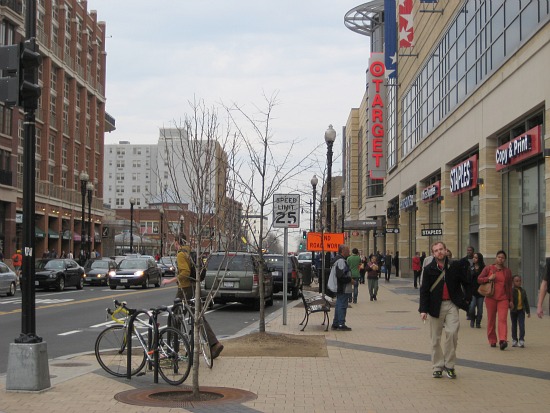 14th Street in Columbia Heights
In the mid-1990s, 14th Street between Park Road and Harvard Street was a stretch that one could drive up or down on the weekend without seeing anyone walking around or any real retail presence. These days, the transformation that those four blocks of Columbia Heights have undergone is apparent the minute you step out of the neighborhood Metro station at 14th and Irving Streets. There's a tangible energy in the air that is the product of busy stores and a dense, diverse throng of pedestrians crowding the neighborhood's streets. This bustling scene -- wholly manufactured by the city working in tandem with developers -- has changed the demographic, residential and retail make-up of the neighborhood over the past decade. But Columbia Heights is still in transition, and at this point, it's not clear whether the community's best characteristic — its dynamic mix of people — will remain a permanent feature.
In a Few Years, A Changed Community
Columbia Heights lies to the north of Florida Avenue, which was once the boundary between the federal city and the suburbs, and sits between 16th Street and Georgia Avenue with Spring Road as the northern border.
The neighborhood was one of several that were destroyed in the riots that swept across DC in 1968 following Martin Luther King Jr.'s assassination. Like most of those other communities, the area didn't begin to come alive again until the late 1990s. In 1999, the Columbia Heights Metro station opened, but for several years after that, the area remained marked by vast empty lots. All that changed in the earlier part of this decade. Working with developers, the city government made a number of savvy decisions that led to the relatively rapid construction of a brand new neighborhood center. The massive undertaking resulted in several large residential buildings, a renovated Giant supermarket, the re-establishment of the historic Tivoli Theatre, a small mall called DC USA featuring the city's only Target, and many other new retail spaces. What seemed to be an endless construction project finally finished last year with the creation of a plaza at 14th Street and Park Road, and an improved streetscape.
Mixing, But Not Necessarily Interacting
Wander up 14th Street, Columbia Heights' main spine, and it's obvious that the area's residents come from a range of backgrounds. The community has long had a strong African American and Latino presence, and it clearly still does. It's also been something of a hipster haven since before all of the construction began, and those folks -- mostly renters living north and east of 14th Street -- continue to be a growing segment of the population.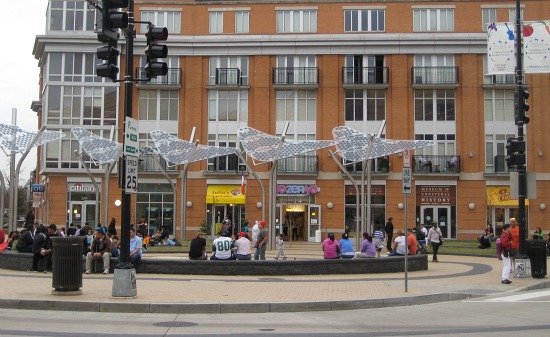 The (relatively) new plaza at 14th Street and Park Road
What's changed, though, is the growing presence of young professionals who've been lured by Columbia Heights' many amenities and increased housing options. Stand outside the Metro around 6pm on a weekday and the new inhabitants, returning from work, just swarm out of the escalators. At this point, that mixture of residents is one of the most diverse anywhere in the city, but the different groups are not necessarily hanging out with one another. "I'm not sure there's much interaction," admitted Andrew Wiseman, who maintains the blog New Columbia Heights. "People just happen to be in the same place at the same time."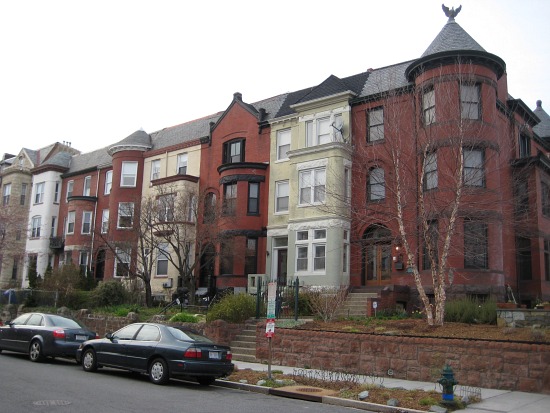 Row houses in Columbia Heights
The Hottest Properties Aren't Houses
Housing in Columbia Heights reflects its mix of residents. There's a wide variety of options, from big new condo buildings and majestic four-story row houses to smaller, older multi-family structures, more humble row houses, and public housing complexes. Less than a decade ago, Columbia Heights was a place to get a bargain home, or to live like a king as a renter in a huge row house. But things have changed: the area's popularity means deals are now harder to come by. These days, it might be easier, said Jen Angotti, an agent with Long & Foster, to think of the neighborhood as comparable to Logan Circle or Adams Morgan, and calculate prices accordingly. But while the neighborhood has some impressive row houses around its center that hover in the $1 million range, smaller row homes lying to the north and east tend to be less expensive than what you would find in the aforementioned neighborhoods. Three-bedroom homes sell for an average of $305,000, and four-bedrooms go for around $500,000, Angotti said.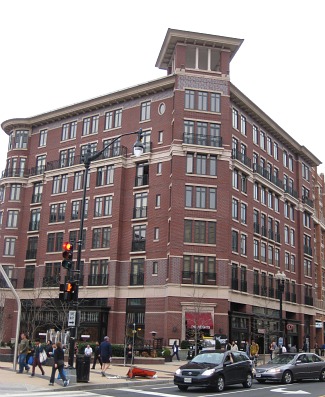 Kenyon Square, one of the area's newer condo projects.
Dina Paxenos, another Long & Foster agent, pointed out that the hottest properties in the area tend to be new condo units, not single-family homes. Currently, there aren't many large-scale new buildings being developed in the area, but 1020 Monroe, a 28-unit condo project in a 1920s building on 11th Street, is set to deliver later this year. "I think they're going to sell in about a second," Paxenos said of the new development, based on the demand she sees. The area is also home to a number of row houses that have been converted into three or four-unit projects, and in general, studios sell for just under $200,000, one-bedrooms go for an average of $287,500, and two-bedroom units sell for around $441,875. Columbia Heights is also a very popular place for renters. Some of the big buildings that were initially designed to be condos wound up as apartment buildings instead, and a number of the area's row houses serve as group homes or other rentals. "The further you go [from the Metro], the less expensive it is," said Angotti. It's possible to find a one-bedroom rental for around $1,000 a month, but most run for closer to $1,500. Two-bedroom apartments go for anywhere from $1,700 to $2,700. However, if all you are looking for is to rent a room in a group house, that can certainly be found for less than $1,000 a month.
The Chain Store Debate
In February, a post on local blog Prince of Petworth asked readers if Columbia Heights was starting to be defined by the chain stores near the Metro station. The post incited a slew of comments both for and against the stores.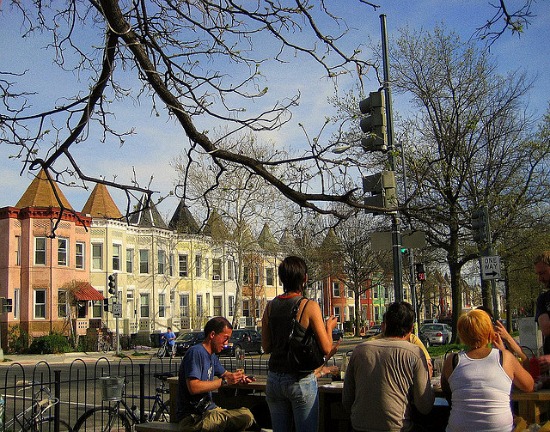 The patio at Wonderland. By
yawper
.
While the area's main drag is home to Target, Best Buy, IHOP, Starbucks, and Chipotle, some of those who commented on the post pointed out that the neighborhood streets are dotted with smaller, independently-owned shops, like the Vietnamese restaurant Pho 14, Sticky Fingers vegan bakery, and Taqueria Distrito Federal. Also, 11th Street, a quiet cousin to 14th Street that was recently introduced to readers of The New York Times as "Washington's hippest new strip" is home to a number of businesses that are distinctly more local and quirky than those on the area's main drag. There is the massively popular Wonderland bar, Red Rocks Pizzeria, Meridian Pint, Columbia Heights Coffee, and Bloombars, a free and funky performance space. The owner of Tryst, an ever-crowded coffee shop in Adams Morgan, is also planning on opening a diner/bar/coffee shop on the ground floor of 1020 Monroe.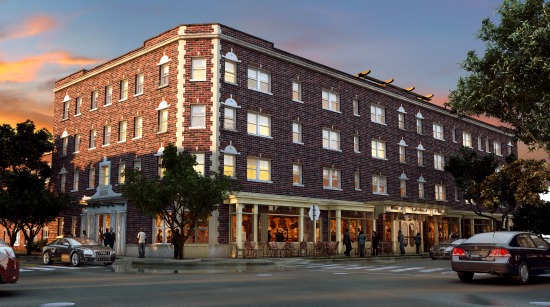 Rendering of 1020 Monroe
Crime: An Issue or Random Bad Luck?
"I think the neighborhood's reputation as a dangerous place is unfair," Andrew Wiseman told UrbanTurf. "There have been some terrible crimes, but I don't think it's as omnipresent as some people think. To me, it seems like a lot of it is gang- or drug-related." However, Wiseman did admit that any crime is too much, and that he knew people who've been mugged or had their houses burglarized. "Tough to say it's an issue rather than just random bad luck." UrbanTurf spoke with Rebecca Schenck, a 29-year-old economist, who said she doesn't worry about walking home from the Metro alone at night. Similarly, Ariel Valdez, a freelance radio producer, said he feels safe, but thought the fact that he speaks Spanish might help. Still, local blogs seem to report on muggings and shootings on a regular basis, and according to the police department's online crime map, Columbia Heights had considerably more crime (particularly violent) over the past year than did a comparable area in the Dupont Circle neighborhood.
Ideal For The Carless
Columbia Heights is a public transportation mecca. The Metro station is on the Green Line, with the major transfer stop Gallery Place only eight minutes away. Buses running north and south along 14th Street and 16th Street are some of the city's busiest, and a Circulator bus runs east and west. Driving is a little less convenient, mostly because parking—particularly close to 14th Street—has gotten tougher and tougher. But the neighborhood is close to major city arteries like 16th Street, Rock Creek Parkway, Rhode Island Avenue (Route 1), and New York Avenue (Route 50). Major Virginia highways like I-66 and the George Washington Parkway are a little farther and require getting through the city first.
The Bottom Line
Columbia Heights is one of those rare DC neighborhoods where people of all races, ages, and socioeconomic classes share space, and to many, that - not the revitalized commercial strip - is what gives the community its charm. With the housing market moving slower than its former breakneck pace a few years back, the face of the area might not change drastically in the next few years, but DC neighborhood growth being what it is, it's unlikely Columbia Heights will stay the same for long. Amanda Abrams is a Washington, DC-based journalist who has written feature stories for The Washington Post, Christian Science Monitor, and Washington City Paper.
Real Estate Agents Serving Columbia Heights
The following real estate agents are active in Columbia Heights. Call or email them to get in touch.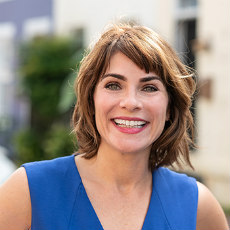 Jen Angotti
Compass
Phone: 202.285.4238
Website: View website
Listings: View listings

Zip code: 20009 and 20010
Schools: Harriet Tubman Elementary School, Lincoln Multicultural Middle School, Cardozo High School, Bell Multicultural High School
Columbia Heights real estate data from Redfin
Columbia Heights rental listings from Craigslist
This article originally published at https://dc.urbanturf.com/articles/blog/columbia_heights_dcs_most_diverse_neighborhood_but_for_how_long/3235.
DC Real Estate Guides
Short guides to navigating the DC-area real estate market
We've collected all our helpful guides for buying, selling and renting in and around Washington, DC in one place. Start browsing below!
First-Timer Primers
Intro guides for first-time home buyers