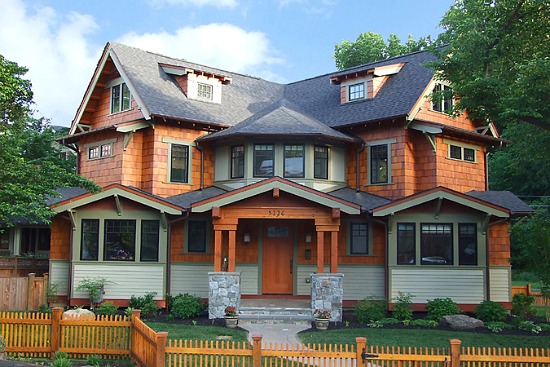 Home for sale in Chevy Chase
Chevy Chase, Maryland has long been considered one of the Washington region's quintessential high-end suburbs: an area with green lawns, high-priced homes and virtually no commercial districts, it offers an escape from the noisy city, but is still within close driving distance of downtown DC and its amenities. 
These days, the region that borders Chevy Chase to the north and west has grown tremendously, but the neighborhood itself remains a quiet enclave with very few commercial options within its boundaries. Given the neighborhood's high housing prices, that insularity feels like exclusivity, but residents say it's a welcoming, friendly place that is very family-centric.
Two Chevy Chases
There are two Chevy Chases that DC-area residents refer to these days: Chevy Chase DC and Chevy Chase, Maryland. The latter is a large area that, among other regions to the north and east, includes Chevy Chase Village and the town of Chevy Chase, as well as Section Three, Section Five, and the village of Martin's Additions.
The five areas are bounded by Western Avenue to the southeast, Wisconsin Avenue to the west, East-West Highway to the north, and approximately Brookville Road to the east.
Home Price and Size Depends on Location
Chevy Chase is characterized by quiet residential streets lined with colonials, bungalows, and Tudors, homes that would fit into just about any upscale suburb in the country. But there are some differences across the various sections of the neighborhoods. For example, Chevy Chase Village, located just north and west of the District line near Connecticut Avenue, is the most upscale part of the neighborhood, featuring grand homes on large plots of land. The town of Chevy Chase, bounded by Bradley Road, Wisconsin Avenue, East-West Highway, and Connecticut Avenue, is characterized by wide streets and big lawns, while Sections Three and Five have narrower streets and slightly smaller houses, and Martin's Additions is known for its newer, more expensive homes.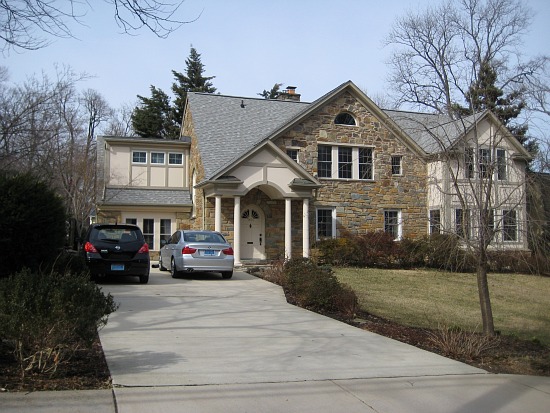 Typical Chevy Chase home
Regardless of exact location, it is hard to find a home on the market these days for much less than $1 million. According to Dominique Rychlik, a realtor with W.C. & A.N. Miller, Chevy Chase Village homes run in the $2 to $5 million range, and average prices across the neighborhood range from $900,000 to $1.3 million. There aren't many rentals or condos in Chevy Chase, though a few high-rise condo and co-op buildings can be found along Connecticut and Wisconsin avenues. Rychlik said that one-bedroom condos sell for around $300,000 and two-bedrooms for roughly $550,000, but can run as high as $2 million, depending on the building.
High Home Prices Attract High Incomes
Given the prices, Chevy Chase residents tend to be successful professionals, many of whom work in downtown DC, Bethesda, or Virginia. (The median household income is just south of $100,000.) But Michael Coles, a small business owner who's lived in the area since 2002, said that what really characterizes the neighborhood is its friendly vibe. "The main thing is that people are just so nice to each other," he said. "Once people get here, they don't want to leave." Another resident mentioned the strong family orientation of the area and neighborhood-sponsored events like summer barbecues, an Easter egg hunt, and a Halloween parade. Part of Montgomery County, the area's public schools are also some of the best in the area, particularly Bethesda-Chevy Chase High School, located just north of the community.
Chevy Chase's bustling commercial strip
Why They Call it The 'Burbs
Chevy Chase residents don't seem to mind that the neighborhood commercial options are limited to a small strip offering 1950s-era amenities. A small section of Brookville Road serves as the center of the village of Martin's Additions and includes a market, a drug store, a barbershop, and the Olympia Coffeeshop. When Joyce Nolan, who lives in the town of Chevy Chase, told UrbanTurf that she could "walk to all the shops" she was talking about Bethesda, an area to the west of the neighborhood that provides the large commercial corridor that Chevy Chase lacks. And though it's not within walking distance for most Chevy Chase residents, Friendship Heights—with its restaurants, upscale shops, movie theater, and new Whole Foods—lies near the neighborhood's southern edge. Also to the south, just over the District border along Connecticut Avenue, is Chevy Chase, DC, which has a walkable pedestrian district that includes a few restaurants, a market, and the Avalon movie theater.
Cars Required
Central DC is located about a 20-minute drive to the south of Chevy Chase. Most residents tend to commute to DC by car, often via the central spine of Connecticut Avenue. Chevy Chase is close, but not really within walking distance, of the Bethesda Metro on the Red Line. Buses also run up and down Wisconsin and Connecticut Avenues. Chevy Chase is also close to the Beltway and is only a few miles west of Rock Creek Parkway; it's also near Route 180 (River Road), which heads northwest.
A Secure Enclave
In 2009, The Washington Post described the safety level in Chevy Chase this way: "You can keep a house key at the police department in case you get locked out. Officers will drive by your home to make sure everything's okay when you're out of town." Not much has changed, according to Michael Coles. "It's very safe. Kids can walk around without worrying about someone bothering them."
The Bottom Line
Chevy Chase is one of those rare neighborhoods that can be summed up in a few words: Quiet streets. Expensive homes. Family-oriented. No bustle. To an outsider, it might sound boring or snobby, but Chevy Chase residents seem content with their suburban community exactly as it is. Amanda Abrams is a Washington, DC-based journalist who has written feature stories for The Washington Post, Christian Science Monitor, and Washington City Paper.
More Stuff about Chevy Chase
Zip code: 20815
Schools: Rosemary Hills Elementary School and Chevy Chase Elementary School; Westland Middle School; Bethesda-Chevy Chase High School
Chevy Chase real estate date from Redfin
Chevy Chase rental listings from Craigslist
This article originally published at https://dc.urbanturf.com/articles/blog/chevy_chase_affluence_green_lawns_and_pricey_homes/3081.
DC Real Estate Guides
Short guides to navigating the DC-area real estate market
We've collected all our helpful guides for buying, selling and renting in and around Washington, DC in one place. Start browsing below!
First-Timer Primers
Intro guides for first-time home buyers