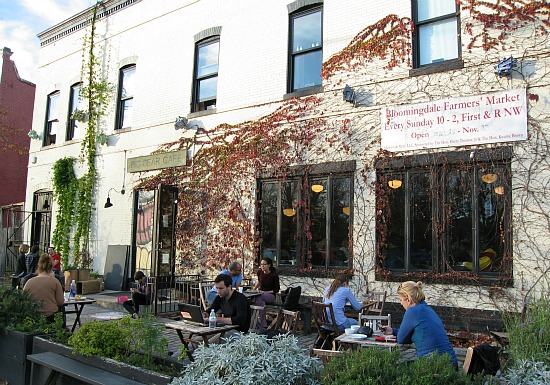 Big Bear Cafe
It is no secret that within the past several years, Bloomingdale has seen its potential realized. In the neighborhood adjacent to LeDroit Park, fixer-uppers have been renovated, basement apartments rented and the neighborhood now meets the "five minute rule": residents can find almost everything they need within a five minute walk. Unlike Logan Circle or Columbia Heights, where residents have dozens of restaurant, bar, coffee and shopping options, Bloomingdale has one neighborhood square (at R and 1st Street NW), a couple taverns (Boundary Stone and Rustik), and two coffee shops/cafes (Big Bear Cafe and Windows Cafe). These limited options mean that residents bump into each other frequently, which creates a familiarity not seen in busier DC enclaves. And outsiders are noticeable. "How do you like our park?" shouted a dog walker at the hidden Crispus Attucks Park soon after this writer walked through the archway on a recent Sunday.
The Evolution of a Community
Bloomingdale is roughly bounded by Michigan Avenue to the north, Florida Avenue to the south, 2nd Street to the west, and North Capitol Street to the east. For much of its history, it was a rural neighborhood with a handful of large estates located just outside the old District boundary line. At the turn of the 20th century, developers Harry Wardman and S.H. Meyers filled it with row houses for government workers. When David Lippe moved in 18 years ago, some families had been there for generations, but the neighborhood had fallen on hard times.
Lippe and his partner bought a seven-bedroom home on Seaton Place in 1993, but found themselves surrounded by a sea of prostitution, drugs and gang activity. Abandoned homes were inhabited by squatters who had hooked up illegal electric and gas lines and the area had a generally unsavory feel. "I would not do it again," Lippe told UrbanTurf. "We were young and had no insight." Despite the criminal underbelly, the neighborhood had a strong sense of community. Lippe remembers going on vacation for a few days and returning to a scolding from his neighbor, Rose. "She said 'I am your black mama, and you should never go out of town without telling me! I was worried sick about you!'"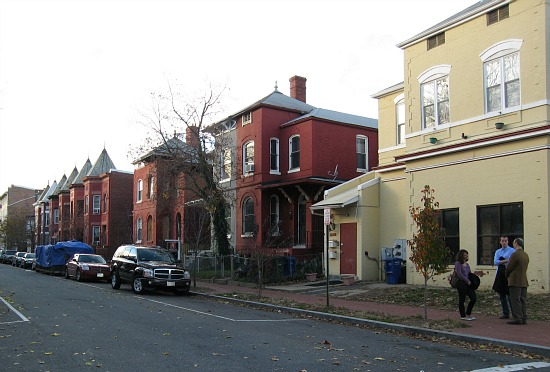 Seaton and 1st Street NW
Lippe, along with with the Bloomingdale neighborhood association and North Capitol Main Street, worked for many years to physically clean up the area, planting trees and scrubbing public areas. While the neighborhood is not crime free, the biggest complaints these days are more scatological than life and death; neighborhood message boards are full of polemics about dog poop. The demographic shift in Bloomingdale over the past decade has been pretty drastic. In 2000, 90 percent of residents were African-American; in 2010 that percentage had dropped to 59, according to U.S. Census data. Other population changes weren't detected by the census; Lippe and his partner were one of several gay couples to move into the neighborhood early in its transformation. As Bloomingdale changed, artists and hipsters were drawn to a neighborhood that was affordable but still felt edgy. Just a couple years ago, the streets in front of Big Bear Cafe were lined with pit bulls, mohawked punks and fixed-gear bikes. These days, you're just as likely to see a young professional with a baby strapped to his chest, checking out the arugula at the farmer's market.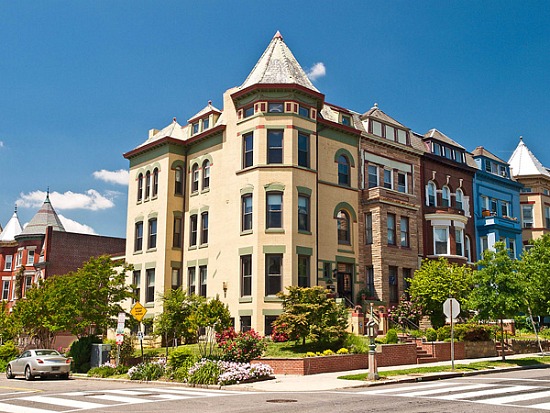 The intersection of 1st and W Street NW.
Businesses Translate to a Neighborly Feel
In 2007, Big Bear Cafe opened and the Bloomingdale Farmer's Market began operations, creating a couple places that cemented the new community. Besides setting the stage for informal run-ins, Big Bear has become the community's unofficial gathering place, serving family-style dinners on Sunday nights (often with local ingredients) and hosting spoken word and improv events; the Washington Area Bike Association will even have its holiday party there. Similarly, neighbors engage in a weekly reconnect on Sundays at the farmer's market. Following in Big Bear's footsteps, a handful of new businesses have opened up in the last couple years: Boundary Stone, a tavern on 1st and Rhode Island NW, offers drinks, fried pickles and music from a free juke box, Rustik, at 1st and T, and Bacio, at 1st and Seaton, serve hot meals, and Timor bodega was reborn as FieldtoCity, an organic market at 2nd and Rhode Island.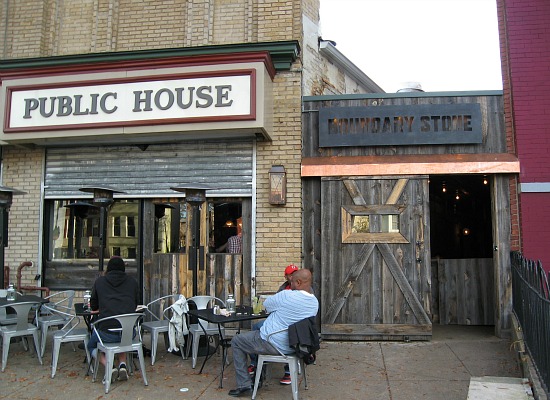 Boundary Stone
These additions have been cheered by many, but when talk started that older residents were feeling a little pushed out, some steps were taken. For example, when Big Bear was first drawing hordes of MacBook-wielding young people to a neighborhood where some neighbors couldn't afford internet, ANC commissioners and Big Bear owner Stu Davenport figured out how to bring free wireless to the surrounding blocks to alleviate tension. Teacher and former community organizer Laura Gill moved to Bloomingdale this summer from Mount Pleasant. She and her boyfriend Matt were drawn to the neighborhood's relative proximity to Union Station (Matt travels to Baltimore regularly) and the "young, liberal people vibe." Gill is still adjusting to her role in the mixed community. "I feel very aware of my transplanted-ness," she told UrbanTurf. "I don't feel like the space is mine, and I feel uncomfortable running around like it is mine or that I have the same relationship to the space as those who have lived there longer. Most people that go to Boundary Stone and Big Bear are not necessarily those who have been in the area for decades."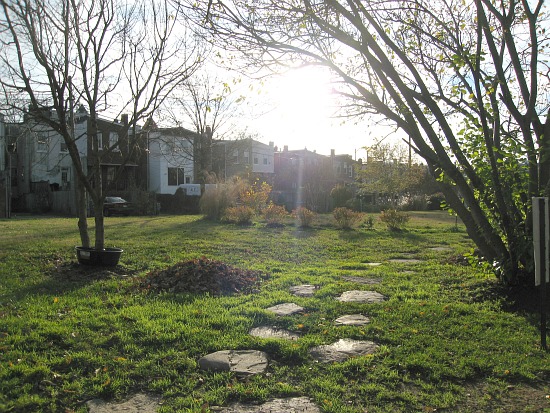 Crispus Attucks Park
Housing and Transportation Options
Large all-brick Victorian row houses with wide front porches fill Bloomingdale. Some have been converted into condos, and many have rent-able basement units. Larger condo buildings exist, like the Parker Flats at Gage School, a 92-unit project in a former elementary school, but are few. The secret has long been out regarding Bloomingdale's housing inventory, and even fixer-uppers usually get multiple offers these days. Resident Tim Crowley and his business partner beat out a dozen other offers to buy a vacant, dilapidated row house on 1st Street NW a couple years ago, which he has since been renovating. The house is next door to his condo. "When we bought [the house], it was a wreck," Crowley told UrbanTurf. "I felt like I was improving my own property value." For-sale listings in the neighborhood have dwindled to the lowest number in a decade, according to real estate agent Suzanne Des Marais. (As of a week or so ago, there were 14 single-family home listings and six condo listings.) The average sales price on a house in 2011 is $510,890, with prices ranging from $234,000 to $850,000; condos fetched $303,662, on average. "The first house I sold in Bloomingdale in 2001 was for less than $200,000," remembers Des Marais. "Prior to 2001, there was one property of condominium ownership in the neighborhood." The transportation options for residents include the New York Avenue or Shaw Metro stations, a Capital Bikeshare station at R and Florida Avenue NW, and a number of bus lines that run down North Capitol Street, Florida Avenue and Rhode Island Avenue.
Schools
Though the number of children in the neighborhood has dropped since 2000, sightings of strollers and baby bjorns are still fairly common. Bloomingdale is served by four public elementary schools (Garrison, Seaton, Emery and Shaed), Shaw Middle School and Dunbar Senior High School. Hyde Leadership Academy and Howard University Public Charter Middle School of Math and Science offer a few charter school options.
The Bottom Line
In April 2010, UrbanTurf wrote that Bloomingdale was a neighborhood quietly making a name for itself. Now, most residents would probably say that the area has gone ahead and made that name. Still, born as a suburb, its holding onto its familiar neighborhood feel. As new and old residents get used to each other and new businesses pop up to serve them, the community is tentatively finding a way to be everything to everyone.
This article originally published at https://dc.urbanturf.com/articles/blog/bloomingdale_where_almost_everyone_knows_your_name/4650.
DC Real Estate Guides
Short guides to navigating the DC-area real estate market
We've collected all our helpful guides for buying, selling and renting in and around Washington, DC in one place. Start browsing below!
First-Timer Primers
Intro guides for first-time home buyers