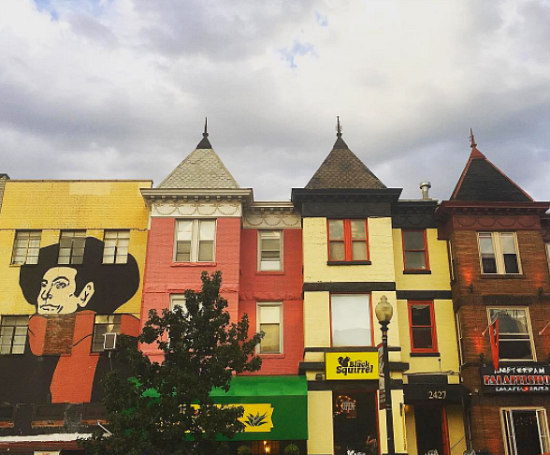 Adams Morgan
UrbanTurf has profiled more than 50 neighborhoods in the DC area. We are now revisiting each of those neighborhoods to update our profiles and see how they've changed over the years.
---
Ashley Lusk's earliest memories of Adams Morgan involve half-eaten pizza and crumpled napkins.
Frequently on Sunday mornings, she and her husband, David, would wake up to find the trash of another weekend bacchanal scattered along her front yard and walk. Now, six years after she moved to the neighborhood, the trash is disappearing.
"I would say the party traffic has reduced by half," Lusk said. "I think it's becoming a very different neighborhood."
This transition is one Ted Guthrie, a 20-year resident of Adams Morgan and a local ANC member, welcomes.
"One thing I just love is all the kids in the neighborhood now," he told UrbanTurf. "When I first moved here, there were almost no kids. I think people feel comfortable staying here after they have kids now because the schools have improved."
For a neighborhood long synonymous with wild weekend nights, Adams Morgan's evolution to a more mellow state of mind has been coupled with some large developments on the horizon — some welcome, some not.
One of the biggest top-of-mind changes for residents like Lusk and Guthrie is LINE DC. Scheduled to open this fall, the new hotel built into a pre-existing church at 17th and Euclid Streets NW will feature more than 200 rooms, several restaurants and bars, and skyline views from its roof.
"LINE DC is by far the most exciting addition to the neighborhood," Brian Barrie, operations manager for the Adams Morgan Partnership BID, said. "Adams Morgan has a thriving restaurant scene, but we struggle to attract enough retail businesses to match the need because we don't have a lot of office buildings that feed the retail. LINE DC is poised to change that."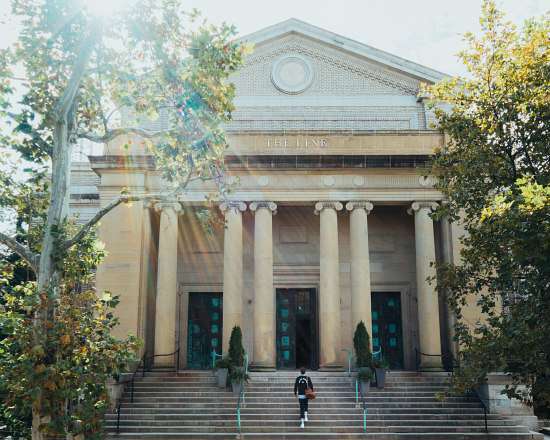 LINE
DC
A far more controversial development is the plan for what's known as "SunTrust Plaza" at the corner of 18th Street NW and Columbia Road NW – a spot considered by many to be the gateway to Adams Morgan.
The contentious redevelopment, whose proposal includes a six-story condo building with ground-floor retail, has been met with ire by neighborhood groups and community organizations. On August 7, a DC Superior Court judge granted an injunction against the developers over concerns about a lack of public space in the plans.
"I'm not opposed to development there in general, but I'm not too excited about what they're going to put there," Lusk said.
Val Morgan, who owns the used bookstore Idle Time Books and lives right above the shop, isn't a fan of the new development due to what it might portend for the neighborhood.
"I think the SunTrust Plaza development is going to have a devastating effect on what the feel of Adams Morgan is now," she told UrbanTurf. "All everyone wants to do is develop and fill in every little bit of space. I moved to DC for the breathing room, for the lovely trees and the low-rise buildings. But they're just going to turn this into any other neighborhood."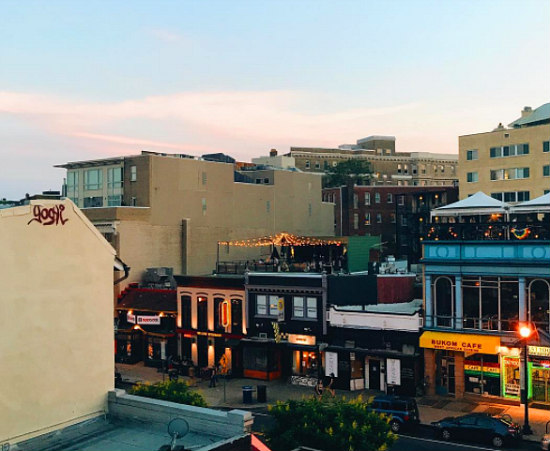 Looking out on 18th Street.

A Nightlife Nexus
Stretching from the corner of Columbia Road NW and Calvert Street NW down to Florida Avenue NW, the 18th Street Corridor has long been considered the nexus of the neighborhood's nightlife.
On the weekends, the sidewalks (recently widened to accommodate more foot traffic) are packed with people hopping between various bars, music venues, and eateries, including Madam's Organ, Dan's Café, Amsterdam Falafelshop, Duplex Diner, and Muzette. These familiar faces now intermingle with newer spots like Smoke & Barrel, and Tail Up Goat.
"The streets now come alive a lot earlier than they used to," said Brian Vasile, owner of Grand Central. "I think it's because of all the new happy hours and restaurants. Before, we got people just for the late night crowd. Now, we're getting people for happy hour, dinner, and late night."

From Melting Pot to Party Central
Adams Morgan is located adjacent to other highly populated neighborhoods like Dupont Circle, Columbia Heights, and the U Street Corridor. The neighborhood is bounded on the north by Calvert Street NW and Columbia Road NW; to the east by 16th Street NW; to the south by the slope of Florida Avenue NW; and to the west by 19th Street NW.
Long before its reputation as a party destination, Adams Morgan was a melting pot for immigrants. Back in the 1960s, the neighborhood streets were home to a vibrant mix of people from Africa, Central America, and South America.
This multicultural feel is a characteristic some residents, like Lusk, are concerned will be lost in the face of rising rents.
"If you ask the long-timers, they'd tell you that the part they loved about Adams Morgan, the multicultural aspect that it was known for in its earliest days, is perhaps quickly diminishing," she said.
"When we first got here [in the 1980s], there were all sorts of weird and wonderful people here," Morgan recalled. "There were all sorts of little stores here because the rents were cheap. Then it started turning into a bar neighborhood. I guess the landlords got onto it and realized they could make money from bars, so the rents went up and more and more little businesses left."
Throughout the late 1980s and 1990s, Adams Morgan developed its reputation as a place to go out and have fun. The reputation stuck in part to a liquor license moratorium that began in 2000 and culminated in 2009 with the prohibition of any new liquor licenses, which made it difficult for new businesses to get a leg up in the neighborhood.
The result: new businesses began to push out into nearby neighborhoods like Logan Circle, Petworth, and Columbia Heights, where liquor licenses were easier to obtain. Then, in 2014, in an effort to draw new businesses to the neighborhood, DC's ABC Board ended the moratorium.
"The lifting of the moratorium made it possible for great new restaurants and bars to enter the community," said Arianne Bennett, co-founder of Amsterdam Falafelshop. "This gives customers more choices, and as they choose the better places to patronize, they've marginalized the bad ones, which are slipping away from the community."
"Over the past decade, the clientele from ten to close has pretty much stayed the same," Vasile said. "The thing that has changed is the non-spending element: the people who used to come here just to cause trouble. The police presence has helped dissipate that."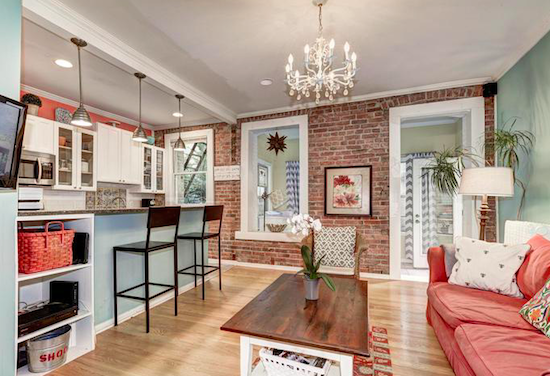 Inside an Adams Morgan condo on Adams Mill Road.
The Cost of Putting Down Roots
As much as renters like Lusk and her husband – who see themselves as invested in the neighborhood as those who own property – would love to buy a place here, prices are holding them back. As with other DC neighborhoods, Adams Morgan is an expensive place to live.
"Earlier this year, I sold a unit on Champlain Street NW for around $800 per square foot, which was a new benchmark for the building it was in," noted real estate agent Max Rabin. "As for rentals, I recently rented a large loft with a roof deck for $6,500 per month. My initial thought was it would be a very high asking rent, but we had immediate interest at the full amount."
As for some of the magnificent townhouses to be found just west of 18th Street NW, sales of these places are few and far between. There have been only around 10 sales over the last couple years, with a median price of $1,075,000.
Four Things to Do
Dine at Tail Up Goat. One of the neighborhood's newest high-end restaurants, Tail Up Goat is a must-try eatery in Adams Morgan…if you can get a table.

Telework at Tryst. This popular coffeehouse (whose siblings, The Diner and Open City, are also popular haunts) is a great place for teleworking. A fun bonus: the animal crackers that accompany Tryst's coffee drinks.

Take the Kids to Kalorama Recreation Park Playgrounds, basketball courts, benches, lawns – this three-acre urban park is a great place for Adams Morgan's burgeoning parent population to let their kids expend pent-up energy.

Eat at Mama Ayesha's Noted for the presidential mural created by the owners, this hidden gem at the eastern end of the Calvert Street Bridge is noted for its delicious Middle Eastern food and reflects the heavy immigrant presence that once defined Adams Morgan.

Pici carbonara at Tail Up Goat

Don't Bother With a Car

The closest Metro stations to Adams Morgan, both on the Red Line, are Woodley Park-Zoo to the north and Dupont Circle to the south. Various Metrobus lines – 90, 96, 42, H1, L2 – run throughout the neighborhood's streets.

Parking, despite recent changes, remains difficult and requires a certain amount of luck (and a high level of patience). To get to Adams Morgan on weekends, your best bet is to Metro or grab a taxi or car share.

Foot traffic in the neighborhood has improved with the widening of the sidewalks along 18th Street NW, but there's been recent talk about closing down portions of 18th Street entirely to car traffic. While this possibility is a long way off, it has sparked interest among neighborhood residents.

"Having all of that traffic really detracts from a pleasant atmosphere for pedestrians in particular," said Guthrie. "We don't want to make it so it's impossible to drive in the neighborhood, but I think there are ways to close part of the 18th Street drive to make it a nicer place to live."


The Bottom Line

A nicer place to live – even on the weekends – is an apt description for what Adams Morgan is becoming.

"It's been a really interesting evolution in my time here," Lusk said. "There's this new energy of people who are seeing themselves here for the long term. It never stops being interesting for me."

Once given over entirely to its reputation as a rowdy party area, the neighborhood, it seems, is slowly coming out of its adolescence and reaching something more akin to maturity.

Zak M. Salih is a freelance writer based in Washington, D.C. His work has appeared in publications including Washington City Paper, the Richmond Times Dispatch, Baltimore City Paper, the Chicago Tribune, and the Christian Science Monitor.

Recent Neighborhood Profiles:
This article originally published at https://dc.urbanturf.com/articles/blog/adams_morgan_from_adolescence_to_adulthood/12953.
DC Real Estate Guides
Short guides to navigating the DC-area real estate market
We've collected all our helpful guides for buying, selling and renting in and around Washington, DC in one place. Start browsing below!
First-Timer Primers
Intro guides for first-time home buyers