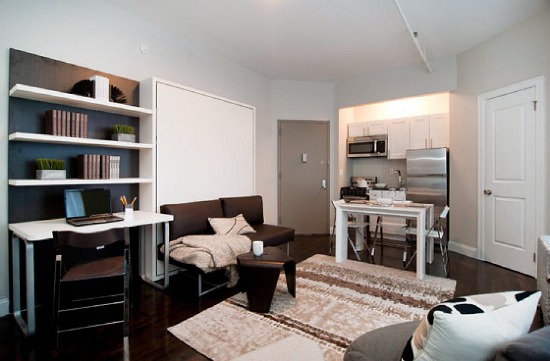 A single-room occupancy development in Harlem with a
Resource Furniture bed
. Can you find it?
Murphy beds: Not exactly on the short-list for things you thought you'd want in your grown-up home, right?
Or maybe that's what you thought until you saw a viral video from Resource Furniture, a furniture distribution company with a micro sensibility that's poised to become quite popular in cities if developers' delivered micro-units live up to their renderings.
There's something hypnotic about watching the six-minute video, in which couches, bookcases and desks transform into previously-hidden beds; coffee tables become dining tables; and ottomans turn into multiple chairs, all with little apparent effort. The company never expected to get so much attention when the video was hastily filmed and uploaded in 2010. Though Resource Furniture offers lots of space-saving furniture, like an accent table called Goliath that turns into a dining table fit for a Game of Thrones feast, the stars of the show are its transforming beds, made by Italian furniture company Clei. Resource Furniture is the exclusive U.S. distributor of Clei beds.
The company surged into the public consciousness last January, when two events converged to give it a prime spot in the micro-unit movement. First, the company outfitted an extremely popular micro-unit exhibition at New York's City Museum with its transformative bed; and second, Graham Hill's Life Edited apartment, which includes the Goliath table, a Clei bed and couch, and a Clei bunk bed, started getting serious press.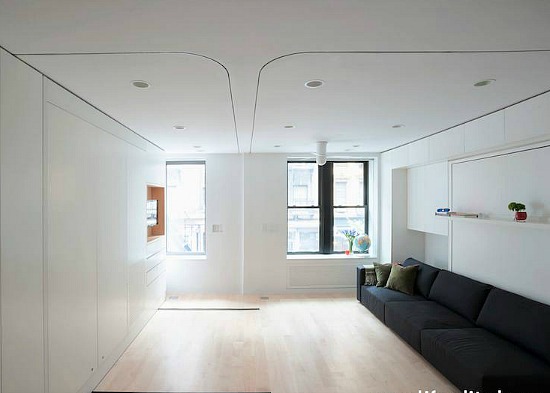 The Life Edited apartment.
"As soon as we had the opening at the museum and people were able to see the furniture in action, we started to get phone calls right away," said Challie Stillman, the company's design director and one of its first employees. The video has nearly nine million views as of this writing.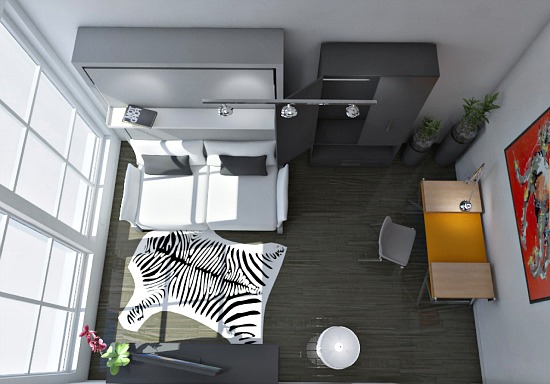 A rendering of a
room in a micro-suite planned for New York's Upper West Side
. The developer says he plans to use Resource Furniture.
The appeal of the beds, which retail between $3,500 and $13,500 without the cost of Resource's specially-made mattresses, is simple: They look sleek, feel comfortable, work well and serve another purpose, like doubling as a desk or a couch. The unique weighted-shelf design makes the bed easy to convert, and the beds' double function is key to their popularity, Stillman said.
"When you put the bed up, you have a second function built into the front, so that same 35 square feet is working double for you," she said. "I think it also helps our case that these pieces are so well-made and so well-manufactured."
The New York-based company works with clients that live in everything from a tiny studio up to a large apartment or house.
"We work with all kinds of clients, some with four bedrooms, and they always seem to need more space," Stillman said. One of the company's first big projects required turning a two-bedroom NYC apartment into a home that fit a single mom and her four kids, according to a LifeEdited interview with founder Ron Barth.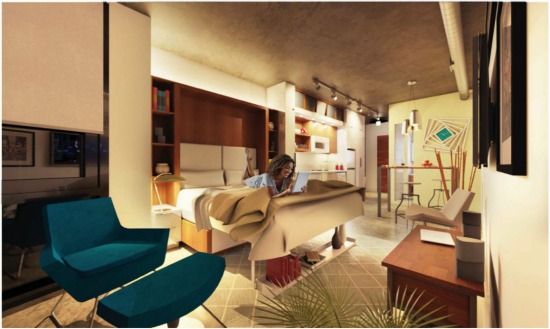 Renderings of micro-units planned for the Wharf, featuring what looks a whole lot like a Clei bed.
Though prices for the beds are steep, Stillman said developers get a discount — and that the price isn't that high in comparison to other development costs.
The developer of a micro-suite concept in New York told UrbanTurf recently that the high cost of the beds was not prohibitive, but would definitely be built into the units' rent. While individuals get a lifetime warranty on the beds, contracted projects receive a more limited five-year warranty. So far, the biggest project Resource has outfitted is a condo building in Asbury Park, New Jersey with 23 units.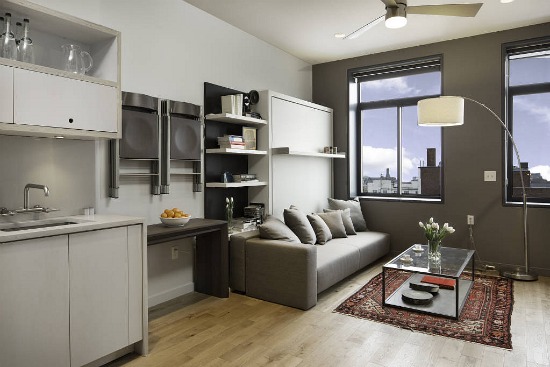 Renderings of the Asbury Park project.
But the company expects their client list to expand, since developers seem to keep using their furniture in renderings.
"What's so funny is that none of those developers have really been in touch with us. They've been using our furniture in renderings, but they haven't told us that's what they intend to use," Stillman said. "But it's clearly the only thing that makes a micro-apartment functional."
Resource Furniture's founder hopes to make the beds as ubiquitous a feature of small spaces as a kitchen or something even more basic, like a toilet, Stillman said.
"You expect a kitchen. Everyone expects a kitchen, and you don't think twice about what that costs because it's simply a part of the package," she said. "Of course you don't at this point expect a bed, but if that bed makes the apartment functional, it should be there."
This article originally published at https://dc.urbanturf.com/articles/blog/a_furniture_distributor_synonymous_with_micro-units_is_poised_for_ubiquity/8673.
DC Real Estate Guides
Short guides to navigating the DC-area real estate market
We've collected all our helpful guides for buying, selling and renting in and around Washington, DC in one place. Start browsing below!
First-Timer Primers
Intro guides for first-time home buyers