Construction has continued humming along on the uppermost stretch of Georgia Avenue and along the northeastern border of Maryland.
The development pipeline in DC's Takoma neighborhood has grown over the past year even as the pipeline of its Maryland counterpart, Takoma Park, is on the verge of atrophy — the office/retail redevelopment of "Takoma Junction" got shot down by Montgomery County last fall, although a small area plan of sorts is inching along for the former Washington Adventist Hospital and university campus and could eventually lead to the first new apartments in the city in nearly 50 years.
Meanwhile, dozens of condo units delivered in Shepherd Park last summer, as have nearly 400 rental and for-sale units at the old Walter Reed campus.
Below, UrbanTurf takes an updated look at the residential pipeline in these DC neighborhoods, starting westward in Takoma, then south down Georgia Avenue..
In case you missed them, here are the other neighborhoods we have covered so far this year:
---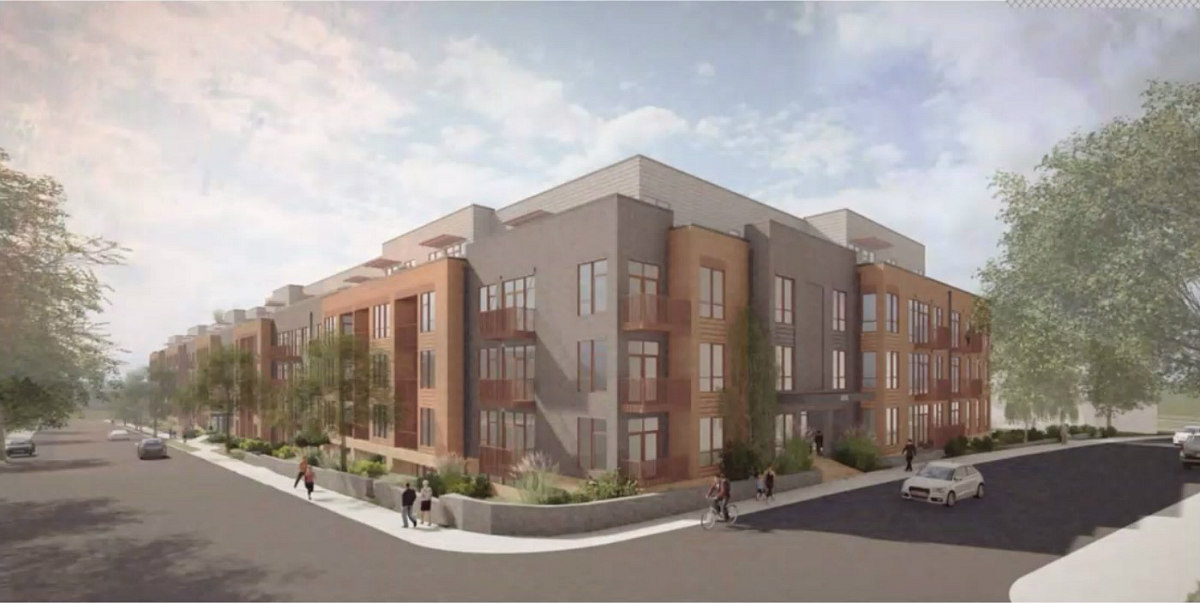 Strayer University Redevelopment
In February, Douglas Development publicly shared plans to replace the vacant buildings at 6830 and 6896 Laurel Street NW (map) with a 356-unit by-right project. The building will be 45 feet tall along Eastern Avenue NW and will gain another 18 feet in height towards Aspen Street due to the grade change. The open space at Laurel and Aspen Streets will also be enlarged, and there will be 67 parking spaces hidden along the rear alley parallel to Laurel.
The unit mix will be mostly larger one-bedrooms, along with studios and two-bedrooms; there will also be roughly 28 Inclusionary Zoning (IZ) units affordable to households earning up to 60% and 80% of area median income (AMI). Eric Colbert & Associates is the architect. The developer hopes to begin excavation this spring and deliver in early 2024.
---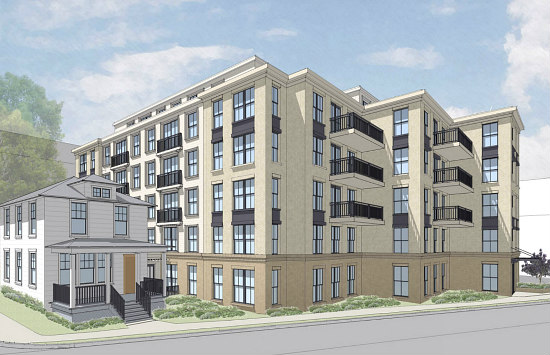 Late last summer, Petra Development filed a historic preservation concept application proposing a 66-unit project at 6928 Maple Street NW (map). In February, the developer filed an amended application cutting the number of units down by more than half in order to create more three- and four-bedroom units.
The 50 foot-tall development would relocate the house (currently home to nonprofit arts incubator Rhizome DC) central to the site to Vine Street, where it will house a four-bedroom unit rather than retaining a commercial use as previously proposed.
All of the residential units would be affordable to housing voucher recipients, and there will be 23 long-term bicycle spaces and seven secured surface parking spaces. The Historic Preservation Review Board (HPRB) has recommended architect Petra Design Studio further consider how the relocated house would be compatible with the new construction.
---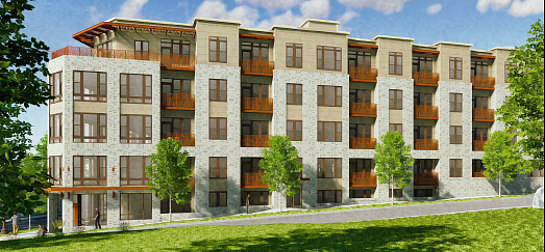 Across the street at 218 Vine Street NW (map), Jair Lynch Real Estate Partners and non-profit Housing Up are under construction on a five-story, 129-unit senior development. Eighty percent of the units will be affordable to households earning up to 60% of AMI and the remainder would be permanent supportive housing for households earning up to 30% of AMI. The building will also have 39 below-grade parking spaces and ground-floor support services. KTGY Architecture + Planning is the designer.
---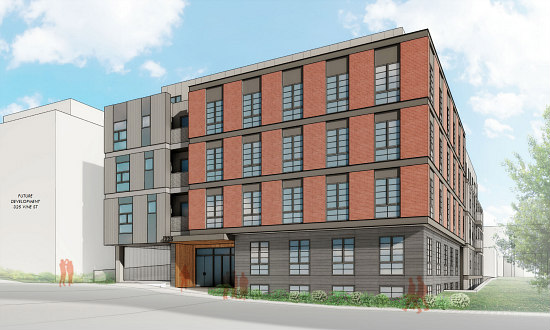 Montage Development Group and Rosewood Strategies got building permits last fall to begin construction work on a four-story, 28-unit building at 221 and 225 Vine Street NW (map). The development will include three IZ units at 50% and 80% of AMI, and there will also be some surface parking. Square 134 Architects is the designer.
---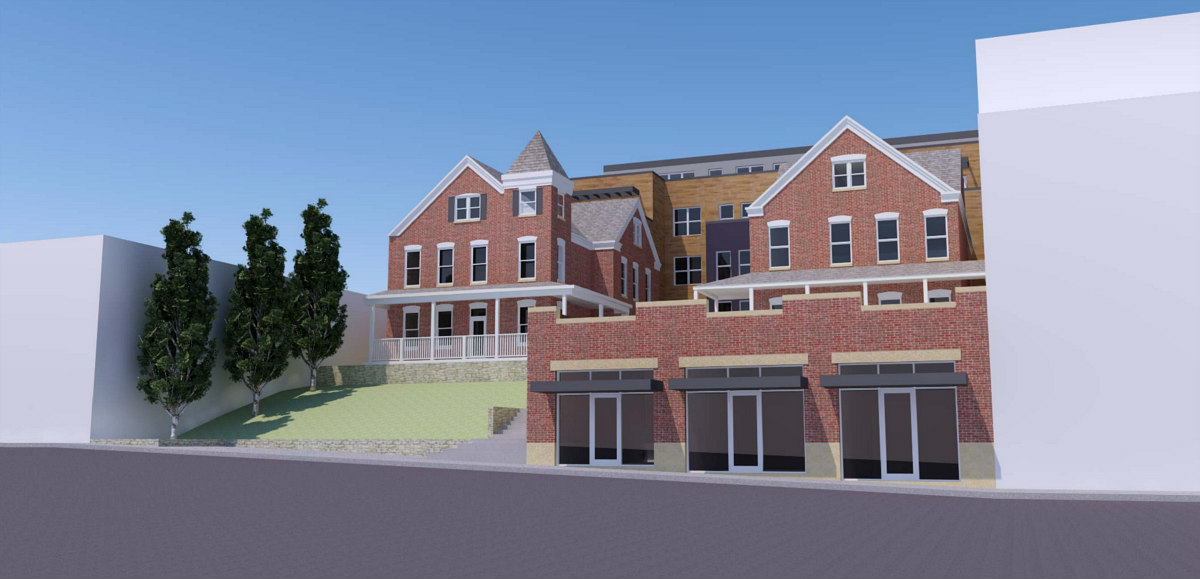 Just a bit further down Vine, building permits are under review for another project that would span the block between 325 Vine Street NW (map) and Carroll Street, delivering 159 units across five stories. The development would also refresh the one-story commercial strip across the street from the Takoma Metro at 300-308 Carroll Street NW (map) and restore and reuse the Victorian house-apartment-hostels above. SGA Cos. is the developer/architect.
The development will include 16 IZ units, 23 parking spaces, and 53 bicycle spaces, and the unit mix will span studios to three-bedrooms. Current commercial tenants like restaurant Spicy Delight are expected to remain.
---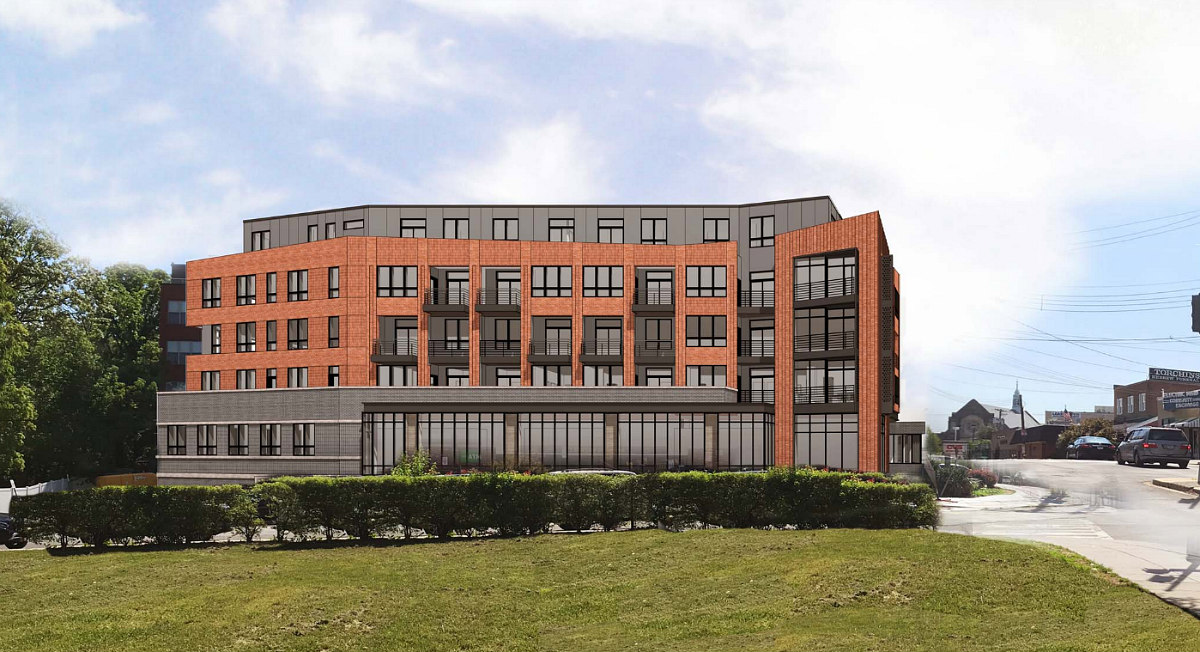 Below-grade construction is underway at the former 7-Eleven site at 218 Cedar Street NW (map) for a 55 foot-tall, 36-unit condo building. The units would be mostly one-bedrooms, and 3-4 of the units would be IZ, The development would also have 9,000 square feet of office and/or retail space. The project will also include 14 bicycle and 12 vehicular spaces of garage parking. Neighborhood Development Company is the developer and Square 134 Architects is the designer.
---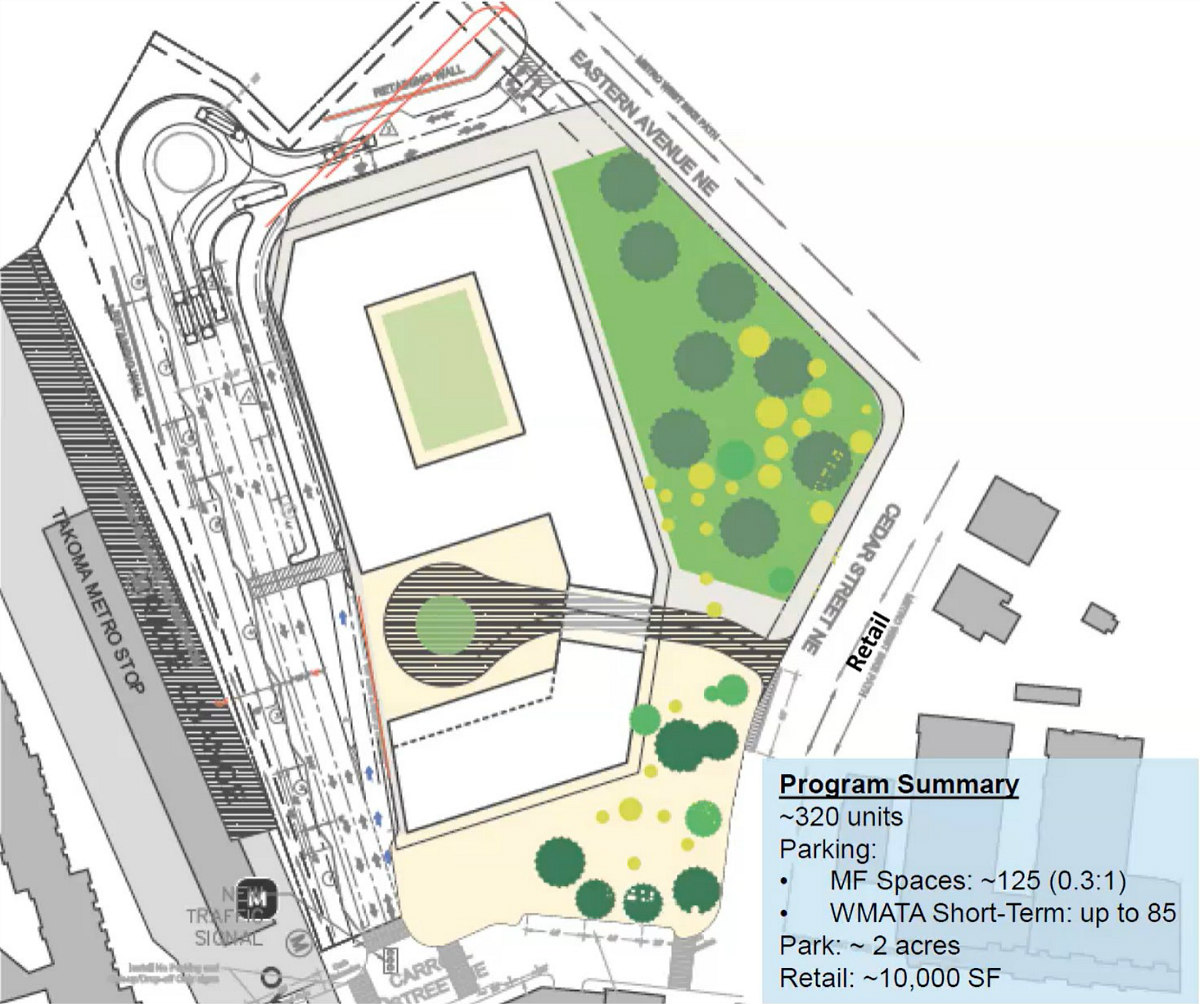 Last month, the public got its first glimpse at the latest proposal to redevelop the WMATA parking lot at the Takoma Metro station. Developer EYA is aiming to relocate the bus bays and open space at the Metro station (map) to enable a development with up to 320 apartments, 10,000 square feet of retail space, and roughly two acres of passive and activated park space.
The new development will also create an activated retail plaza with terraced steps at the Metro entrance at Cedar and Carroll, along with a retail loading turnaround/pedestrian-friendly paved "woonerf" off of Cedar Street. WMATA's existing short-term parking would be relocated and reduced, and there would be roughly 125 residential and retail parking spaces.
The default proposal would make 15% of the apartments affordable, although EYA is hoping to make one-third of the residential space affordable to households earning up to 30%, 60%, and 75-90% of AMI courtesy of the city's new tax abatement for affordable housing. The developer will present at the ANC 4B meeting next week.
---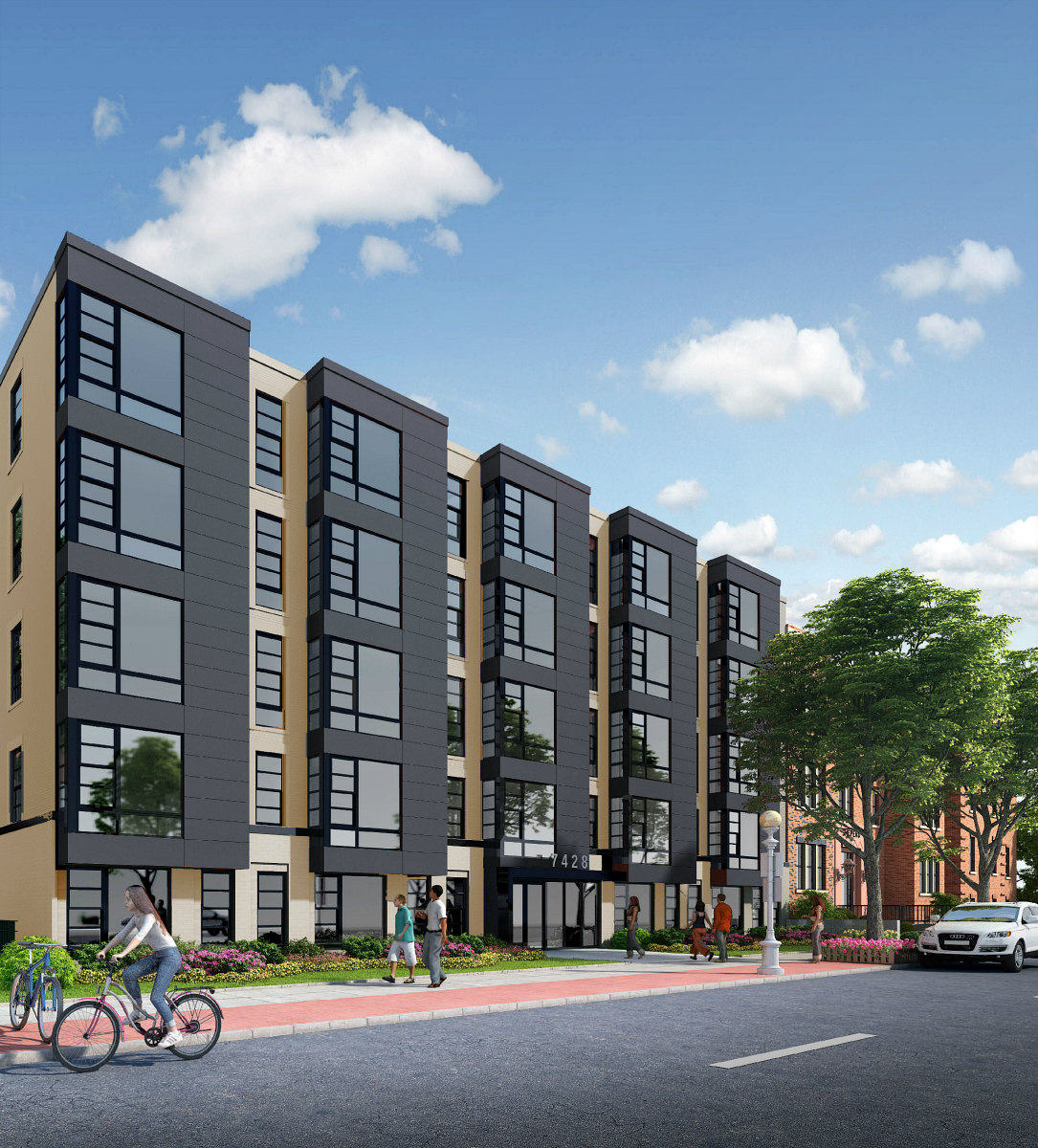 Another all-affordable development is planned in Shepherd Park, replacing the two-story multifamily buildings next door to the Juanita E. Thornton/Shepherd Park Neighborhood Library at 7428 Georgia Avenue NW (map). All 66 of the units will be affordable to households earning up to 50% of AMI, and the unit mix will span from studios to three-bedrooms.
The five-story development will include a rooftop solar array and provide a handful of parking and carshare spaces, and amenities will include a gym and a lounge. Although raze and building permits have been approved, demolition has not yet begun. Lock7 Development is the developer and Torti Gallas is the architect.
---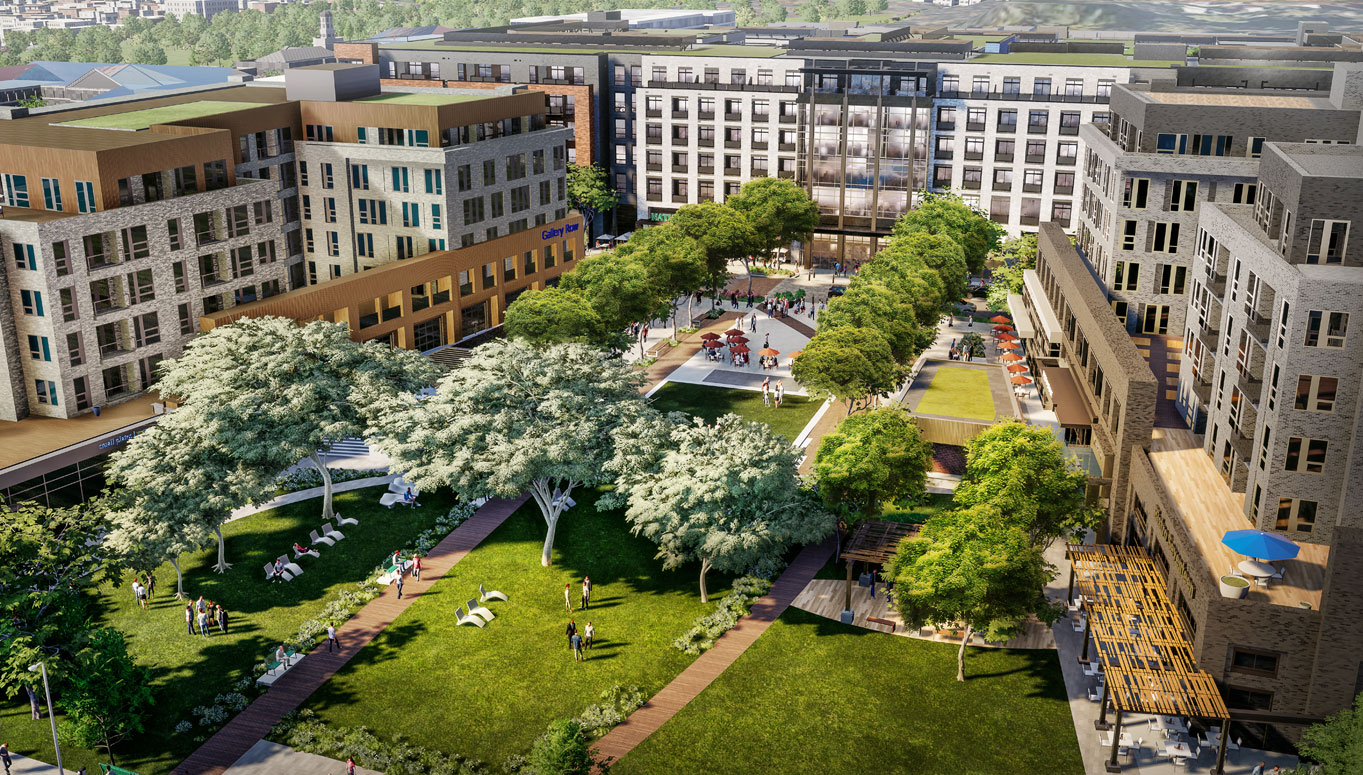 The redevelopment of the 66-acre former Walter Reed Army Medical Center campus has continued apace to eventually deliver over three million square feet of mixed-use, including more than 2,100 residential units; 150,000 square feet of retail; two charter schools; office, hotel and creative space; and 14 acres of green space.
The nearly 400 units at The Brooks and The Vale delivered last year, and an Arts Plaza debuted earlier this month to host temporary installations. Also in the pipeline are the adaptive reuse of a power plant slated to become a brewery and a firehouse and gas station slated to become arts spaces. Current construction also includes 54 assisted living units.
Hines, Urban Atlantic, Triden and architect Torti Gallas Urban are the master planners. Here's what's next on the residential front: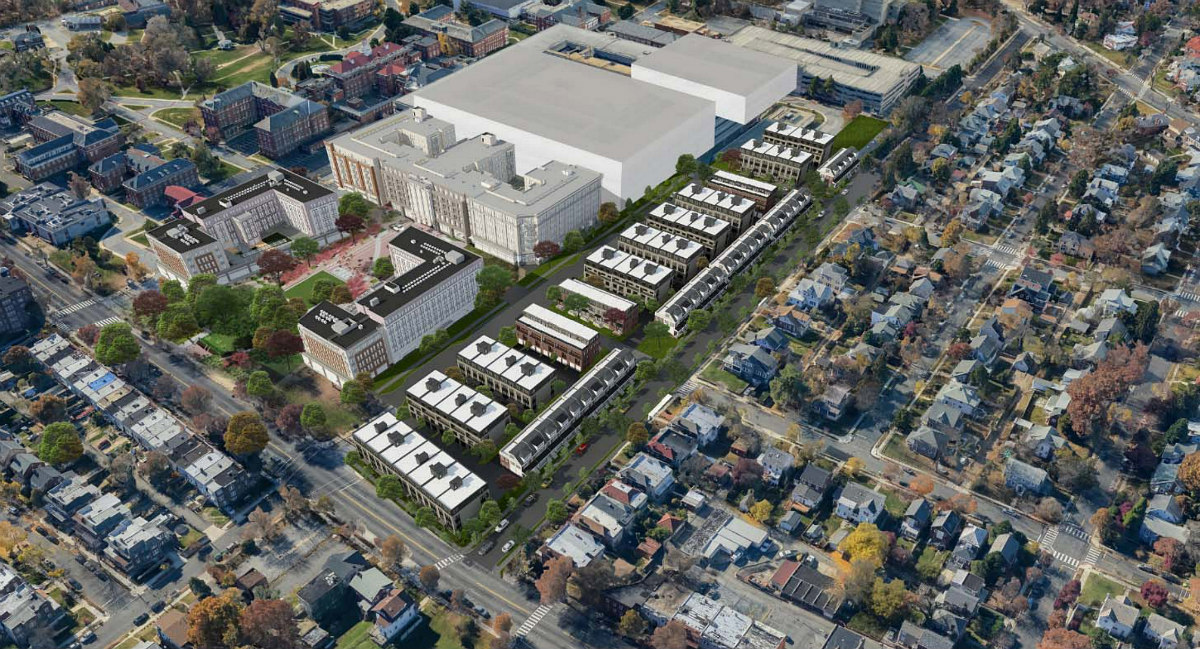 HPRB approved the design concept for the units at the "Veranda" in February, paving the way for Toll Brothers to construct 47 townhouses and 94 stacked bi-level condos at Georgia Avenue and Fern Street NW (map). The three-bedroom units would be arranged in rows; each townhome will have a two-car garage and each condo will have one garage space. Twelve of the units will be affordable to households earning up to 80% AMI. The developer is also the design architect, and The Eisen Group is the architect of record.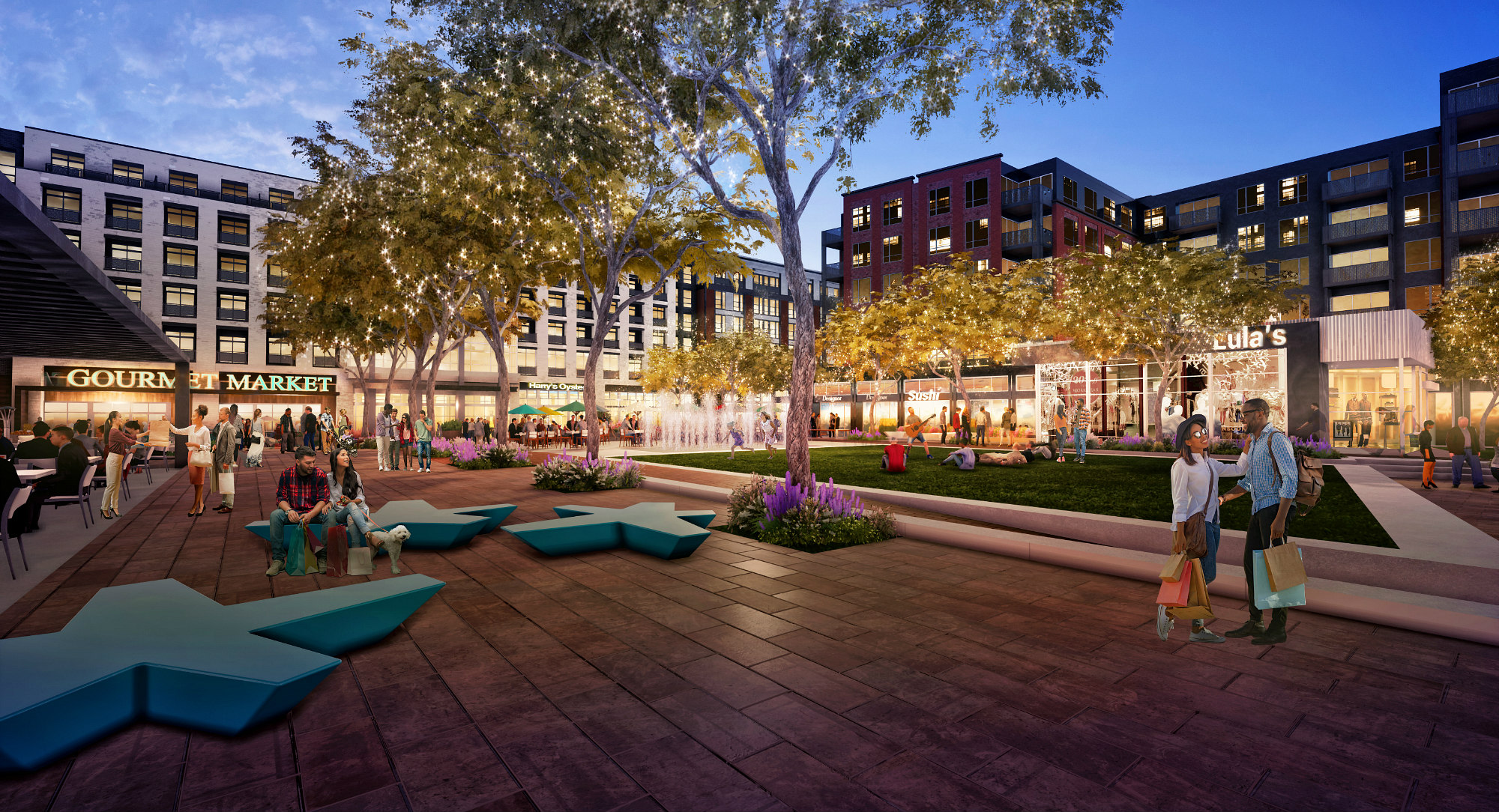 Another 291 market-rate and 32 affordable units, a 42,000 square-foot Whole Foods, and up to 18,000 square feet of additional retail are expected to deliver this year behind the central lawn fronting Georgia Avenue between Elder and Dahlia Streets. The Hartley will also provide at least 300 below-grade parking spaces, shared with...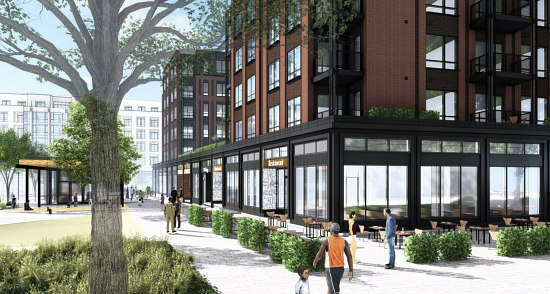 This 109-unit condo project, fronting the central lawn off 12th Street NW (map), broke ground last fall. The unit mix will span one- to three-bedrooms, and nine of the units will be affordable. The development will also include 11,000 square feet of retail and residential amenities will include coworking space and an indoor/outdoor lounge.
Hickok Cole is the architect and STUDIOS furnished the interior design; Hines, Urban Atlantic and Triden Development Group are the developers and Grosvenor Americas is a financial partner. Urban Pace is administering sales, and prices will start in the $400s. The building is expected to deliver in the second quarter of next year, but sale will begin later this year.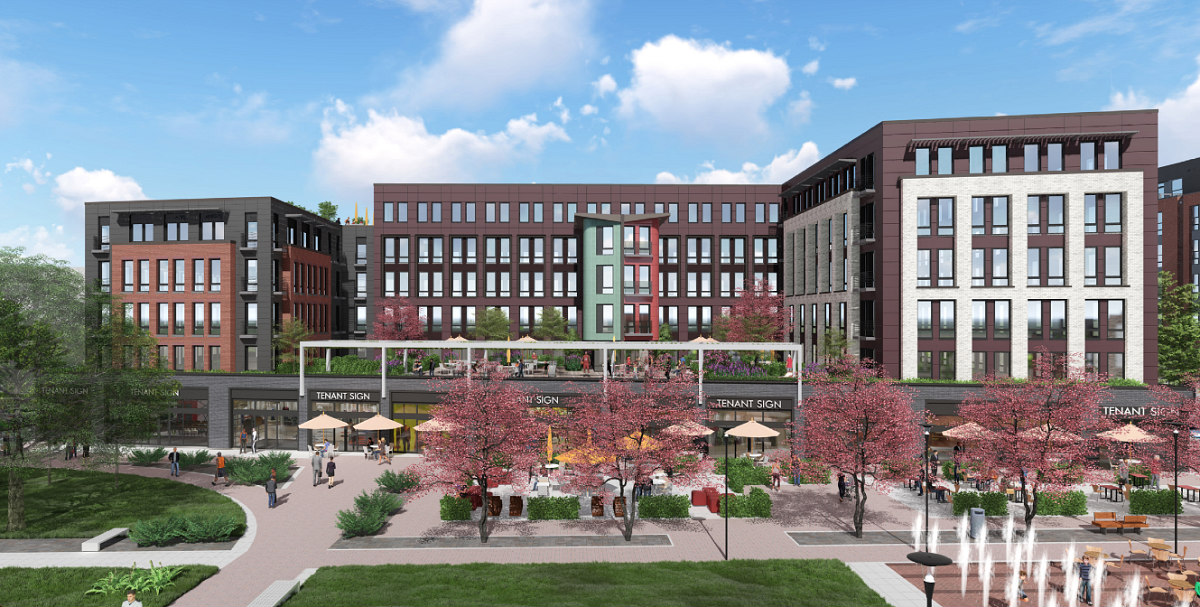 The six-story building next door (map) is also under construction and on its way to delivering 60 co-living units above 21,736 square feet of retail; it also shares garage space with Kite House and The Hartley. The development could deliver by year's end.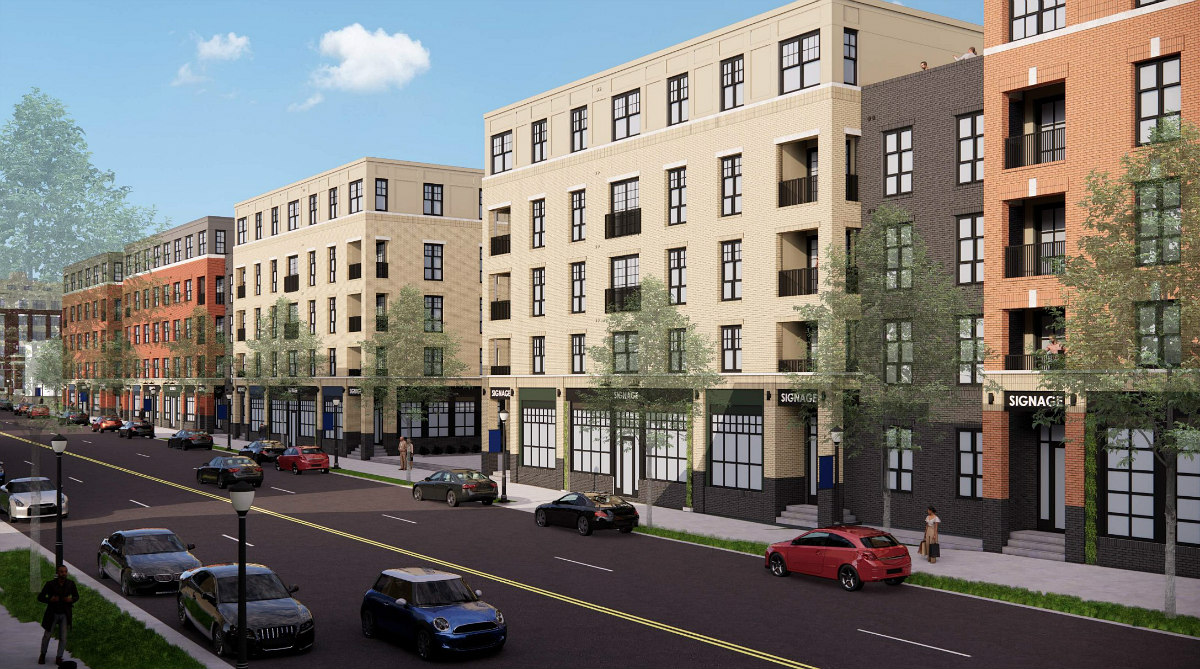 Construction could begin this summer on a 1.5-block-long development that would replace two buildings off the southwest corner of Georgia Avenue and Dahlia Street NW (map). The five-story project will deliver 344 apartments above 24,000 square feet of commercial space.
Up to 11% of the residential space will be affordable to households earning up to 50% and 80% of AMI, and some of the storefronts along Georgia Avenue will house live/work units and "outward-facing" building amenities, such as a café, a yoga studio, and co-working space. The development will also provide 240 below-grade parking spaces; BKV Group is the architect.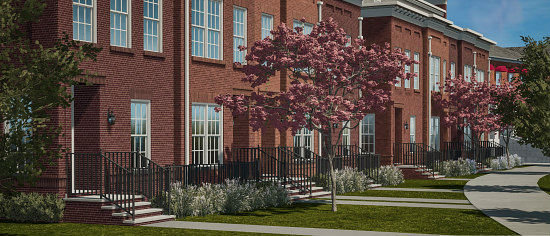 Site work has begun on 50 townhouses along a central mews for the site on Aspen Street between 14th Place and Luzon Avenue NW (map). The townhouse-unit buildings would be in clusters of three and five, each 2-3 stories tall and 16 feet wide with interior one-car garages. Each unit would also have two- to three-bedrooms, plus attic/loft and outdoor terrace. Four of the townhouses will be affordable dwelling units (ADUs) for households earning up to 80% of AMI. Sales are expected to begin this summer.
---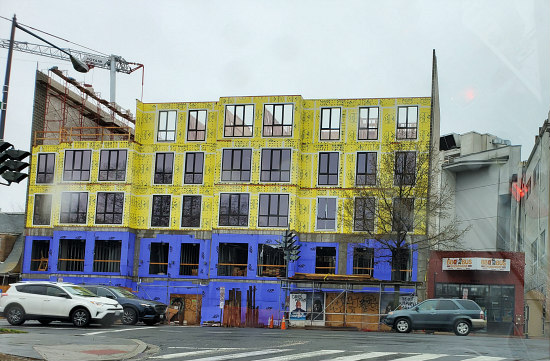 Although the firehouse at 5760 Georgia Avenue NW (map) is reportedly no longer on the table for redevelopment, that is not stopping other projects from coming to the same block. Construction has nearly topped up at the former furniture store site at 5720 Georgia Avenue NW (map) on a six-story, 220-unit development with 36 below-grade parking spaces.
This article originally published at https://dc.urbanturf.com/articles/blog/a-metro-development-a-7-11-development-and-a-whole-foods-takoma-upper-ga-av/19540.
DC Real Estate Guides
Short guides to navigating the DC-area real estate market
We've collected all our helpful guides for buying, selling and renting in and around Washington, DC in one place. Visit guides.urbanturf.com or start browsing below!
First-Timer Primers
Intro guides for first-time home buyers