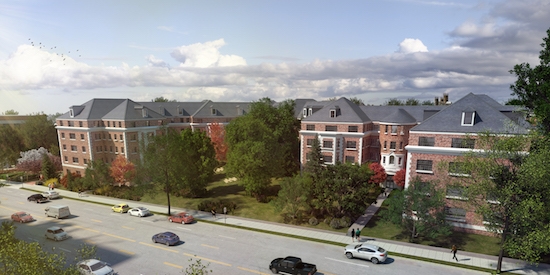 South Cathedral Mansions
Woodley Park
South Cathedral Mansions
The renovation of a historic residential Wardman apartment building near the Zoo. In 2014, CAS Riegler and Commonwealth Residential purchased South Cathedral Mansions at 2900 Connecticut Avenue NW for $70 million. For the last year, the partnership along with Snead Construction has been renovating and expanding the building into a 165-unit apartment project.
What?
Project type:Rental apartments
No. of units:165
Amenities:Spa and gym, a dog run, an outdoor pool and lounge, and a "carriage house" with indoor/outdoor lounge, a full test kitchen, grills and a coffee bar.
Website:www.southcathedralmansions.com
Last updated:October 21st, 2016
Where?
Address:2900 Connecticut Avenue NW
Washington, DC 20008
When?
Status:Under Construction, Not Yet Leasing
First move-ins:2016
Lease-up begins:2016
More Photos...